Solid Drilled Thermowells
Wide Range of Materials
Stainless Steels
Special Materials
Choice of Process Connections
Flanged
Screwed
Weld-In
One Piece Forgings
ASME IX Coded Welding
Special Coatings
Non Destructive Testing
General Description
Thermowells from Jagjan are precision components manufactured to the highest standard from bar or forgings, to serve as protective devices for primary sensing elements of all types. A wide range of possible products are available. Conditions of pressure, temperature and corrosion resistance govern the size, shape and selection of materials to ensure optimum dependability, system response and accuracy.
Specification
Materials :-
Jagjan team is experienced in the manufacture of solid drilled thermowells in a wide range of materials, including 304,310, 316 and 321 Stainless Steels, 446 Cr-Fe, 6% Mo, Haynes' Alloys 214, 230, 556 and HR-160, Carbon Steels, Chromium Steels, Hastelloy B3, C22, C276 and X, Incoloy 800, 825 and MA-956, Inconel 600 and 625, Monel 400 and Titanium.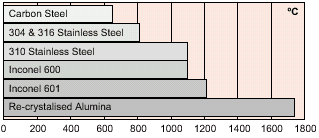 For further recommendations on the use of these materials, please refer to Technical Data Sheet JAG/TWM
Instrument Connection :-
Instrument connections may be male or female, with API, NPT, BSP, or other thread forms.
Process Connection :-
Connection to the pipe or vessel may be by means of thread, flange or weld.
Threaded :-
Using standard tapered or parallel pipe threads for simplicity and low cost is popular, generally for low pressure applications. Standard threads are NPT, BSP(Pl), BSP(Tr) and API. The thread size is dependent on the application, but 1/2" ,3/4" and 1" are common.
Flanged Connection :-
All sizes and pressure ratings are available to DIN, BS, ANSI/ASME and JIS or other standards. Flanged connections are now the petrochemical standard for all applications.
Weld-In Connection :-
Weld in thermowells are normally used where process pressure and velocities are too great for flanged and threaded, or where long term inexpensive connections are required.
Immersion Profile :-
The profile should take account of fluid flow characteristics, strength of thermowell and immersion length.
Tip Profile :-
Consideration should be given to tip profiles when designing the thermowell for a specific application . As a rough guide, flat tip should be used for lower pressure applications, where flow characteristics around thermowell are not important. Domed and spherical profiles should be used in medium and high pressure applications respectively where flow characteristics around thermowell are important.
Bore :-
Selected to suit primary sensing element, ensure ease of removal and minimise the amount of free air space around sensor, thus providing optimum response time. In general the outside diameter and bore of the Thermowell should be such that the minimum wall thickness is 3 mm.
Jagjan operates specialised deep bore drilling machines to ensure the concentricity and finish of the thermowell bore.
Immersion Length :-
The immersion length should be calculated to ensure that the sensing element has sufficient immersion into the process medium to give accurate measurement. To ensure optimum results and freedom from outside influences, the thermowell tip should be located at a point which equates with the lower portion of the centre third of the pipe line.
For tanks, the depth of immersion obviously varies considerably but, as a rule of thumb, 300 mmfrom outer wall will give ideal results.
In high velocity applications, wake frequency effects must also be considered.
Immersion length is defined as shown.
Surface Finish :-
Thermowells are supplied as standard with a fine machined surface finish. Other finishes may be supplied on request.
Special Coatings :-
Jagjan has facilities for coating thermowells to increase corrosion and abrasion resistance. Options include Stellite, Tungsten Carbide, Tantalum, Zirconium and PTFE.
Weld Procedures :-
Jagjan employs well experienced welders for stainless steels, Carbon Steels and special materials.
Quality Control / Inspection :-
Jagjan thermowells are manufactured under a strict quality control system. A wide range of documentation and Non Destructive Testing can be provided on request, including:
Material Certification
Certificate of Conformity
Hydrostatic Pressure Test
Bore Concentricity Test
Positive Material Identification
Hardness Testing
Third party inspection may be arranged, and material certification to IBR can be provided.
Standard Thermowells :-
The following are the most common thermowell types available from Jagjan. Other designs are available to customers' standards, as the application requires It is not to be implied that all thermowells shown below are available in all sizes, ratings and materials. Please refer to the sales department with specific enquiries.
Type J 001 :-
Type J 002 :-

Hex Thermowell With Tapered Thread

Hex Thermowell With Parallel Thread

Type J 003 :-
Type J 004 :-

Round Thermowell With Tapered Thread

Round Thermowell With Parallel Thread

Type J 005 :-
Type J 006 :-

Flanged Thermowell, Full Penetration Weld

Flanged Thermowell, Fillet Weld

Type J 007 :-
Type J 008 :-

Flanged Thermowell, Thread and Weld

Weld-In Thermowell

Type J 009 :-
Type J 010 :-

DIN Standard Weld-In Thermowell

Type A Flanged Thermowell

Type J 011 :-
Type J 012 :-

Type E Flanged Thermowell

Type D Flanged Thermowell

Type J 013 :-
Type J 014 :-

Type C Flanged Thermowell

Type A2 Flanged Thermowell

Type J 015 :-
Type J 016 :-

Type A2 Flanged Thermowell, Reduced Tip

S-2006-4 Thermowell

Type J 017 :-
Type J 018 :-

S-2007-4 Thermowell

S-0984-9 Thermowell

Type J 019 :-
Type J 020 :-

FSI-776 Screwed Thermowell

FSI-776 Flanged Thermowell

Type J 021 :-
Type J 022 :-

6-105-3 Flanged Thermowell

SP.BL.2291-K14 Flanged Thermowell

Type J 023 :-
Type J 024 :-

Fig 1 Weld-In Thermowell

Fig 2 Weld-In Thermowell

Type J 025 :-
Type J 026 :-

Fig 3 Screwed Thermowell

Fig 4 Screwed Thermowell

Type J 027 :-
Type J 028 :-

Welded Thermowell and Backing Flange

Forged Thermowell and Backing Flange

Type J 029 :-
Type J 030 :-

Forged Flanged Thermowell

Forged Thermowell with Backing Flange

Type J 031 :-
Type J 032 :-

High Velocity Thermowell, Fillet Weld

High Velocity Thermowell, Full Penetration Weld

Type J 033 :-
Type J 034 :-

Hex Thermowell with Tapered Thread

Hex Thermowell with Parallel Thread